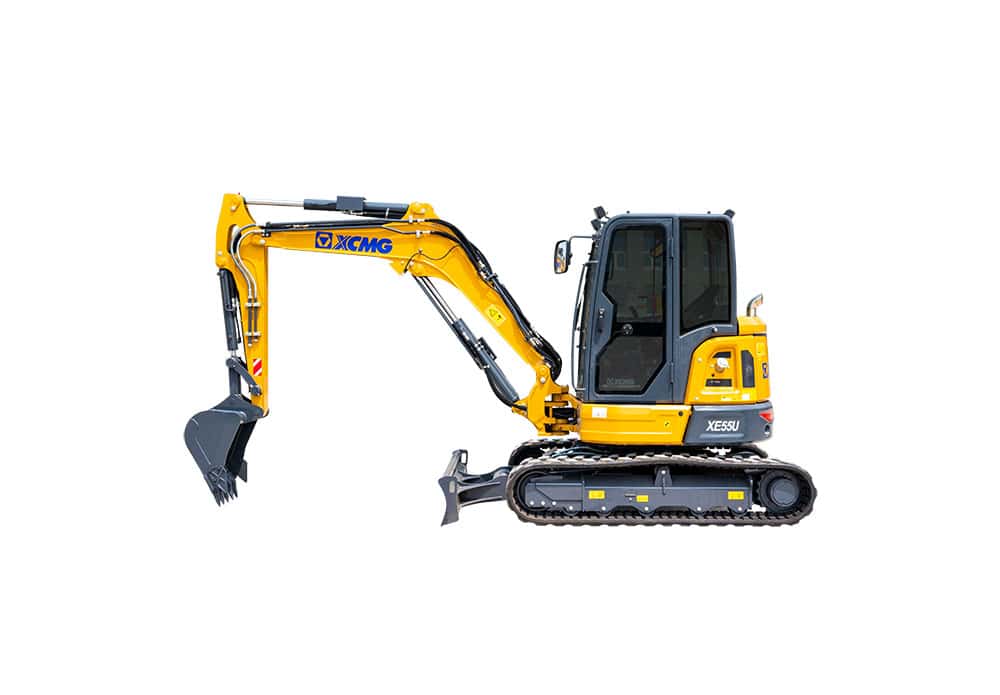 Excavators
XE55U
---
Operating Weight With Cab
12,566 lb.
Operating Weight With Canopy
12,346 lb.
Standard Bucket Capacity
0.21 yd3
CONTACT US
DOWNLOAD PDF
XE55U
The XE55U engine meets the T4F emission standards with Exhaust Gas Recycle (EGR), Diesel Oxidation Catalytic Converter (DOC), and Diesel Particulate Filter (DPF) technology. This offers both sufficient power and low fuel consumption. The XE55U is very versatile with its compact tail swing and variable angle boom of 70° and 53° for left and right. 
PARAMETERS
| Parameter | Unit of Measure | Measurement |
| --- | --- | --- |
| Operating Weight | lbs | 12,346 |
| Bucket Capacity | yd3 | 0.21 |
| Engine Model | - | Kubota/V2403/Tier 4F |
| Rate Power/Speed | HP | 41.2 |
| Maximum Torque/Speed | rpm | 1500 |
| Travel Speed | mph | 1.7-2.9 |
| Swing Speed | rpm | 9.5 |
| Displacement | gal | 0.6 |
| Bucket Digging Force | lbf | 10,004 |
| Arm Digging Force | lbf | 5462.9 |